The IATF 16949 standard defines the different processes of a quality management system in a company. It refers to various other standards in order to be able to implement the individual processes. In this blog series, I will explain which standards are necessary to support the implementation of the development processes.
In this first blog we'll start with the planning of the development processes in IATF 16949. IATF 16949 refers to the methods and standards such as APQP (Advanced Product Quality Planning) or VDA MLA (Maturity Level Assurance).
APQP
Let's start with APQP. APQP is a product-related quality planning process that supports the development of products and processes. APQP serves as a guide for the development process, and at the same time acts as a standard for exchanging results between organisations and their customers. APQP comes from the American quality management standard QS 9000 and was last published in 2008 in its second edition. The second edition includes updated terminology and concepts consistent with ISO / TS 16949 (now IATF 16949).
I
ndividual APQP phases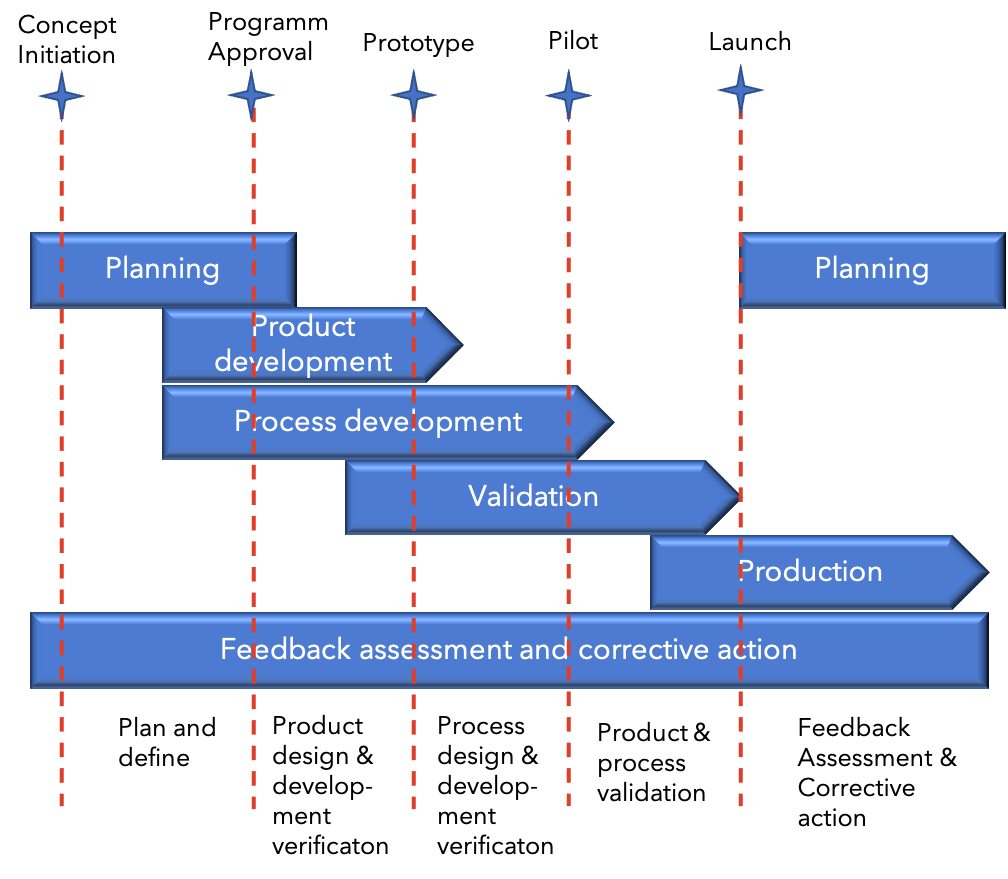 Graph 1: Individual APQP phases
As can be seen in the above graph of individual APQP phases, the APQP process is used to plan the product from concept phase to series production. APQP is a project management process which uses tools such as FMEA, MSA, PPAP and SPC in product and process development. Various activities are planned for the individual phases and implemented in a temporal context. The entire process is accompanied by the APQP status report and must be documented accordingly.
Product design & development
Let's take a closer look at phase 2 "Product design & development". This phase defines and plans the design development into a near final form. All design factors should be considered in this phase. It also includes prototype building. Studies are based on engineering drawings and specification requirements, but further definition and prioritisation of the characteristics for product & process controls can be derived using analysis methods like FMEA. A critical review / assessment of engineering and technical requirements and information is assured.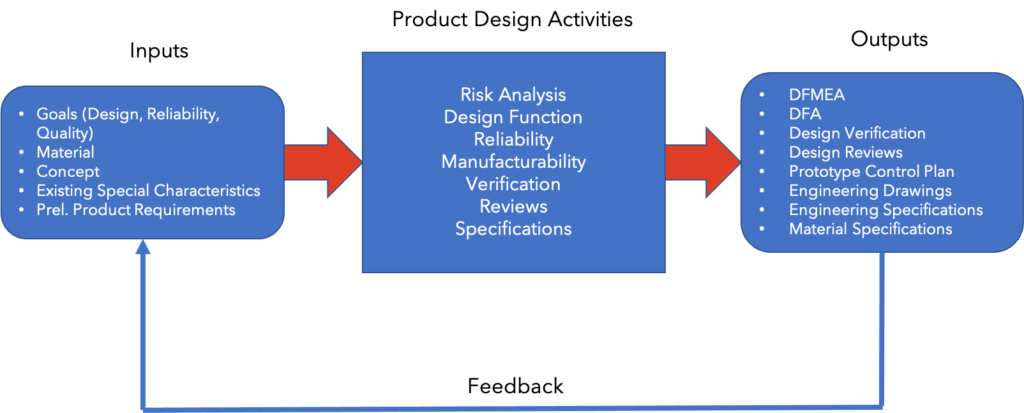 Graph 2: Product design & development
In product design, the focus is mainly on DFMEA (Design Failure Mode and Effects Analysis). Here it is important to ensure that appropriate design characteristics have been considered. It also provides important input for the subsequent APQP process steps, like process design, to ensure a capable product assembly process. Feedback and lessons learned are also considered as input information for the product design phase.
The main idea behind the APQP is that the quality of a product is particularly defined during the development phase. The aim of the APQP is therefore to avoid failures, to recognise necessary changes, and to reliably meet customer requirements even before a product goes into series production. APQP project management is no longer reserved only for the automotive sector, more and more customers in other industries are demanding it too.
Documentation
APQP is used in a targeted manner in a company. In order to ensure its effectiveness, certain framework conditions must be met such as resources, competencies and a multidisciplinary approach and there must be a willingness to extensively document and evaluate the results. Especially in the early development phase, documentation is something that is easily forgotten, but that should be prevented with a detailed and clear plan of all APQP phases. By using checklists throughout the entire APQP process up to and including the individual APQP step, complex APQP process can be presented in a clear manner. The overall checklist shows the APQP plan with milestones. Each APQP step has to be evaluated immediately after completion and, if necessary, corrective measures initiated. Here the approach to the PDCA cycle promoted in IATF 16949 comes to light.
APQP is a very powerful but complex process. In principle, it can be used in every industry, but should be tailored to the individual processes and products, as not all steps can be implemented in every project or company. A pragmatic approach can be used here, but without the risk of missing important steps in the development process. Caution is advised during the planning of the APQP process.
In the second part of this blog series, I will introduce the alternative to APQP – VDA Maturity Level Assurance.
By Dijaz Maric, Quality Management & Reliability Engineering Consultant