When a revised standard or guidance document is released there is always a heightened level of anticipation to see what's been added/updated/removed. The second amendment of IEC 60601-1, due for release in October 2020, is no different. The first amendment came out in 2012 so we are long overdue a refresh. Committee SC 62A working group MT 28 are beavering away on the amendment and current status is AFDIS.
The update rate of medical device standards continues at a slower than desired pace, and hence this leads to a synchronization activity in each revision or amendment. Many of the changes in AMD 2 of 60601-1 are concerned with updating standards and document references.
There are one or two changes in the pipeline that really benefit the medical device industry. Section 7.2.3 will be updated to apply more rigour to the use of safety signs when consulting the Accompanying Documents. In AMD 2 if the Accompanying Documents have been used as a RISK CONTROL measure the mandatory action safety sign ISO 7010-M0002 shall be used (blue symbol below) otherwise ISO 7000-1641 may be used (black open book symbol). This change helps the industry by ensuring the use of Accompanying Documents for RISK CONTROL has been highlighted.
General ISO 14971 updates have been applied through out as many references to the version of ISO 14971 are modified to remove the date reference. There is a further definition of IP classification for enclosures, if rated as IPXX, IP00, IPX0 or IP0X.
As the IT safety standard IEC 60950-1 is being phased out and replaced by IEC 62368-1:2018 the guidance on protection against electrical hazards is being updated to reflect this particularly where means of operator protection (MOOP) is the concern, however not limited to just this concern.
Annex A also brings in a redrawn figure A.8 which is the severity of harm figure from ISO 14971. This is more a restructure of the figure rather than a change in philosophy. The thin arrows represent elements of RISK ANALYSIS and the thick arrows depict how a HAZARD can lead to HARM. The premise here in more complex ME EQUIPMENT a HAZARD can lead to multiple HAZARDOUS SITUATIONS which in turn can lead to multiple HARMS.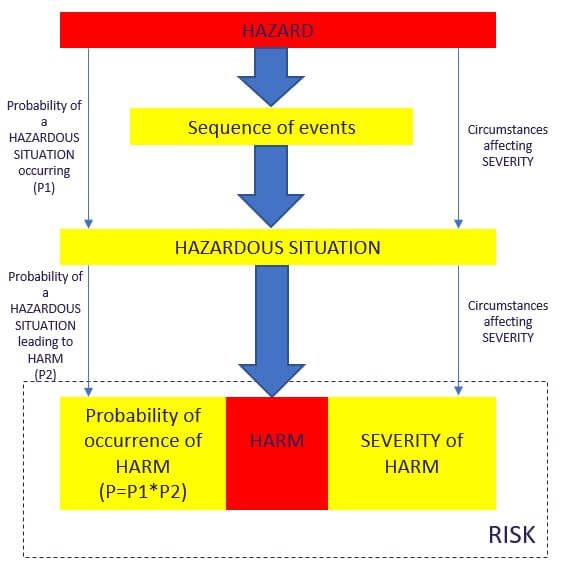 In the second part of our blog we will look at some suggestions for a future release of 60601-1 based on our experiences and feedback from our customers when applying IEC 60601.
By Alastair Walker, Consultant