Good question! We didn´t know either until the day Stuart Hardie spoke about quality management at this year´s Product Design Scotland´s annual summer design event at the breath-taking Saint Luke´s church in Glasgow. The event was all about exploring the role of product design in supporting the delivery of healthcare innovation. When taking the stage at this top Glasgow live music venue a microphone classed as "Rock´n´Roll" was given to Stuart – we guess this is the first time any quality related presentation had ever been linked to anything remotely "Rock´n´Roll". Stuart "rocked" the stage talking about quality management and why it´s worth the investment in general and for the medical device industry in particular. The presentation was developed and delivered to provide audience members with an introduction to quality management system standards, their key concepts and some of the potential pitfalls to avoid when implementing a quality management system.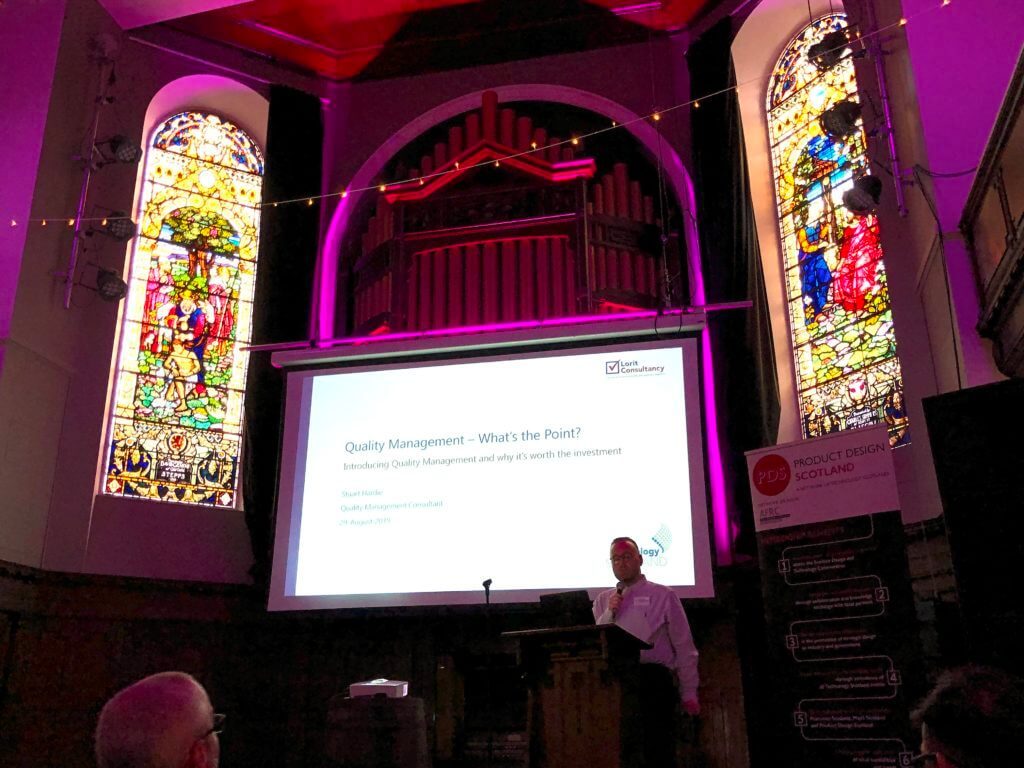 The numerous participants of the event also had the chance to listen to perspectives on NHS design approaches and views from the consultancy sector from experts such as Robin Sayer (Technical Operations Manager, Medical Devices Unit, NHS Greater Glasgow and Clyde), Matthew Love (Managing Director, Mage Control Systems Limited) and many more. Each presentation provided invaluable insights into the impact that locally developed and manufactured medical devices are having on end users and ultimately patients on a global scale. The event provided its speakers the opportunity to showcase the talent and innovation that currently exists and is being developed within the Scottish technology and medical device industries.
The evening closed with a drinks reception and the chance to connect and talk to leading medical device industry insiders about accelerating innovation in the healthcare business and the associated quality management systems and processes being used to aid/support the afore mentioned innovation.
Thanks to Technology Scotland for having us there.
If you want to know more about Quality Management, its benefits and how to implement it or if you need a special training on it, don´t hesitate to get in contact with us: info@lorit-consultancy.com